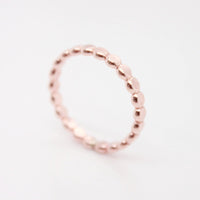 A unique trending ring set including three flat beaded accent rings. This ring set includes a silver, rose, and yellow ring that can be stacked or worn individually.
This NEW set includes three individual flat beaded rings- a 2.5 mm sterling silver, 14K rose gold filled, and 14K yellow gold filled.

Each ring is approximately 2.5 mm tall. Gold Filled is a great alternative to plated and contains 100x more gold. The rings are water resistant, tarnish resistant and will last forever with proper care and cleaning.