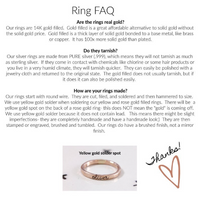 A boho maximalist personalized ring set made from fine silver and 14K gold filled. This ring set includes names or dates engraved and stamped and makes a great gift!
THIS INCLUDES ALL OF THE RINGS IN THE FIRST PHOTO
-a 2mm rose gold filled ring in lowercase cursive
-a thin sterling silver gemstone ring
-a thick fine silver organic typewriter name ring
-a rose gold filled beaded spacer ring
FOUR total rings...we recommend sizing up half a size to accommodate for multiple rings.
The rings are very unique- the silver ring is thicker than the other rings, with a more organic round appearance, as it is not hammered all the way around.  There may be slight color variations between the solder and the metal on the ring.