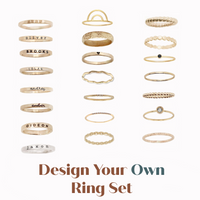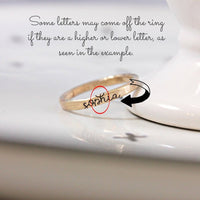 Build your own name ring set
Build your own Ring Set!

You can build your own personalized custom ring set with names or dates. We use sterling silver and 14K gold filled to build the stacking ring set of your dreams!

Add each ring to your cart individually that you would like in your custom set.  Be sure to include personalization if it's needed.  When you check out, all of your rings will ship together in a set.

Please note:

Ring Styles A-I are available in sizes 5, 5.5, 6, 6.5, 7, 7.5, 8, 8.5, and 9

Ring Styles J-R are available in sizes 4, 4.5, 5, 5.5, 6, 6.5, 7, 7.5, 8, 8.5, 9, 9.5, 10, 10.5, and 11

Please leave any information needed in the notes box, such as ring size, name for ring, symbol for ring, etc.