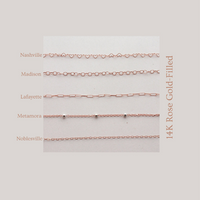 Our bracelet with a star initial is perfect if you want the permanent jewelry look without the commitment. This bracelet is crafted from 14K gold filled or sterling silver, ensuring a lasting, high-quality finish. A lobster clasp keeps your piece securely in place. Choose the chain option and let us know what initial you need. This is a great gift for her!
Bracelet chain is available in 14K yellow gold filled, 14K rose gold filled, and sterling silver, but the star initials are ONLY available in 14K yellow gold-filled. Therefore, if you purchase a silver or rose gold filled chain, it will include a yellow gold-filled star initial.

Includes a .5" chain extender on the end of the bracelet.
The Fishers chain is featured in the first photo with the "K" star initial.
Please provide the initial and chain length you'd like in the notes at checkout. If no initial or length is left, then we will ship just the selected chain in the 7" length.
Chain Lengths: 6", 6.5", 7", 7.5"
To find bracelet length: measure your wrist where you'd like the bracelet to stop on your arm.