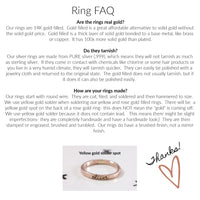 The Alice Set - Feel the joy of wearing something truly unique with this personalized Name Ring Birthstone Set! Crafted from 14K yellow gold-filled wire, this set includes a bold font name ring, a 1mm wavy ring, and a 4mm bezel birthstone ring.  This set is sure to sparkle and show off your one-of-a-kind personality. Make it an unforgettable gift for the special person in your life!
This set is only available in 14K yellow gold filled.  Please note, there may be color variations in the personalized ring and the stacking rings, as this set is handmade.
Sizes available: 5, 5.5, 6, 6.5, 7, 7.5, 8, 8.5, 9
*Please note that the size 9 birthstone ring will have a hammered finish.