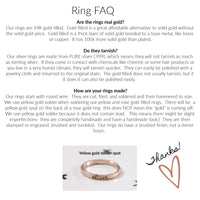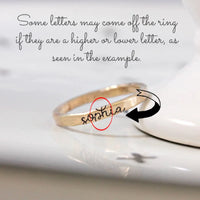 This stylish Layla Set features two 14K yellow gold filled name rings, a 10 mini cubic zirconia ring, and a beaded ring. As a layering set, two kids' rings make this the perfect everyday jewelry that offers subtle, yet memorable, sparkle.  Includes one name inlowercase cursive and one name in uppercase bold.
Please note that this set is handmade and can involve color variations due to soldering and engraving.
This set is only available in 14K yellow gold filled in sizes 5, 5.5, 6, 6.5, 7, 7.5, 8, 8.5, 9. 9.5
We suggest sizing up half a size when stacking more than three rings on the same finger.