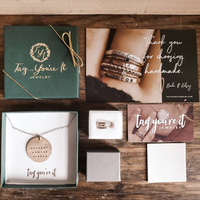 This is for ONE yellow gold filled ring. 
If you would like a set, please add two to your cart or add one at a time if you want different fonts.
This ring is made from 14K rose gold filled.  Gold filled is a great alternative to solid gold because it is affordable, but has 100 times more gold than plated.  
It is a beautiful family keepsake that can be personalized with a name or a date.  Perfect to stack or layer with other rings from our shop.
Each engraved ring starts from a spool of wire.  They are hand-cut, hand-formed and soldered in the first process of creating your ring.  They are then hammered to size, engraved, hand-brushed, and polished. 
Each ring will have a small solder spot in the back because they are handmade, not machine made.  We use yellow gold solder on our yellow and rose gold filled rings because rose gold solder contains carcinogens.  There may be slight color variations between the solder and the metal on the ring. 
These rings are individually made for you and no two are alike!  Please see the photo for more information about gold-filled jewelry, as it is an affordable alternative to solid gold.