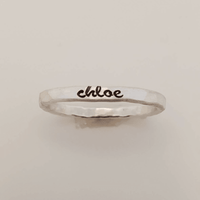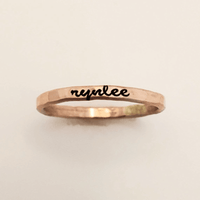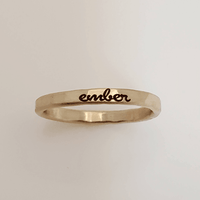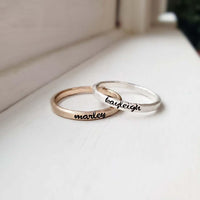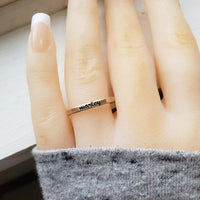 Bold Cursive Name Ring
A handmade silver ring with a personalized cursive name engraved. A beautiful women's ring that is stackable, making a great gift for her!
This 2mm ring is engraved in our lowercase bold cursive font. It's available in fine silver, 14K rose gold filled, and 14K yellow gold filled.
Each ring will have a small solder spot in the back because they are handmade, not machine made.  We use yellow gold solder on our yellow and rose gold filled rings because rose gold solder contains carcinogens.  There may be slight color variations between the solder and the metal on the ring. 
The BEST personalized jewelry you'll ever buy!
A friend recommended Tag You're It jewelry when I mentioned I wanted a personalized ring for my daughter who passed a few months ago. I received my ring in a few days (the business is local to me). I honestly cried when I received it. It's so beautiful & it automatically became my favorite piece of jewelry. Thank you, TYI, for creating my very special ring. Any future jewelry will be purchased from your family owned business. ❤️
The BEST personalized jewelry you'll ever buy!
A friend recommended Tag You're It jewelry when I mentioned I wanted a personalized ring for my daughter who passed a few months ago. I received my ring in a few days (the business is local to me). I honestly cried when I received it. It's so beautiful & it automatically became my favorite piece of jewelry. Thank you, TYI, for creating my very special ring. Any future jewelry will be purchased from your family owned business. ❤️